While the in-person Choose France Summit, scheduled for Monday, January 17, 2022 in Versailles, was postponed due to the health situation, the day remained dedicated to France's economic attractiveness. As the President of the Republic and key ministers visited industrial sites across France, new investment projects were announced by foreign companies.
21 new projects – representing more than €4 billion in investment and 10,000 new jobs (plus more than 16,000 temporary jobs) – were announced by foreign companies. Among these projects, many illustrate the contribution of foreign investors to the reindustrialization of France in strategic sectors such as health (Pfizer, Merck) or the ecological transition (Eastman, Loop Industry). Others testify to investors' renewed confidence in the potential of the French market (Mars, Ikea), or to France's ability to host projects at the cutting edge of new technologies (Biogen, Cisco).
In addition to these announcements, the President of the Republic and several ministers traveled to different regions to visit industrial sites and salute foreign investors' confidence in our economy. Accompanied by Agnès Pannier-Runacher, Minister Delegate for Industry, and Brigitte Klinkert, Minister Delegate for Economic Inclusion, the President of the Republic visited the BASF site to highlight an investment of €410 million, including €60 million in R&D, which should lead to the creation of some 50 permanent jobs.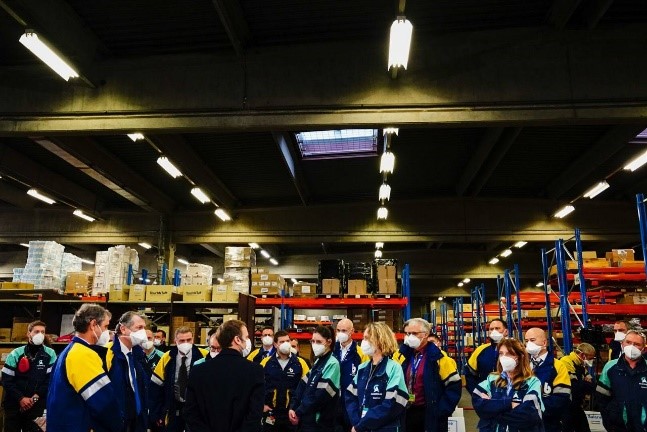 Twitter | @AgnesRunacher
Franck Riester, Minister Delegate for Foreign Trade and Attractiveness, visited the Mars Petcare site. Ministers Jacqueline Gourault (Territorial Cohesion and Relations with Local Government), Amélie de Montchalin (Public Sector Transformation and the Civil Service) and Olivier Dussopt (Public Accounts), as well as Minister of State Bérangère Abba (Biodiversity), presented the "Choose France" prizes to the winning companies' representatives during their visits.
The day was also an opportunity to take stock of the projects announced during the first four editions of the Choose France Summit. Since the first edition in 2018, 55 project announcements came to fruition, for a committed amount of nearly €8 billion in investments, and the creation of more than 13,300 jobs.
+ "Best of Choose France" report >>

***