ARMENIA DAILY NEWS REPORT
January 13, 2020
Compiled by the IMF Armenia Office
Please note that this report does not represent or reflect IMF views and must be used for informational purposes only. No part of this report should be transmitted to a third party.
ECONOMIC
Top five financial laws and decisions that enter into force in 2020

Armenia's public administration system is not efficient, political analyst says

SRC informs about changes for business entities in field of public catering

World Bank Expects Continued Robust Growth In Armenia

The Economic Significance of the Minimum Monthly Wage
POLITICAL
Authorities Complete Corruption Probe Of Serzh Sarkisian

Analyst: opposition in Armenia will have to go through transformation to compete for next elections

2019 Ends as Most Peaceful Year in 25 Years of Ceasefire

Armenia Airways cancels flight to Tehran, scheduled for January 12
OTHER
Bereaved Mothers Demand Arrest Of Adoption Scam Suspects
ARMENIAN PRESS REVIEW
ARMENIAN DRAM EXCHANGE RATE

January 10, 2020 www.cba.am
USD 479.26
GBP 626.30
EUR 531.79
YEREVAN WEATHER
Today

TUE

WED

THUR

FRI

AM Fog/PM Sun

Sunny

Partly Cloudy

Partly Cloudy

Partly Cloudy

High: 5

Low: -8

High: 3

Low: -6

High: 4

Low: -7

High: 4

Low: -7

High: 4

Low: -4
Top five financial laws and decisions that enter into force in 2020
January 13, ARKA
Every year, the Armenian government makes decisions, and the parliament adopts laws, many of which come into force from the beginning of the next year. Below are some of them chosen by ARKA news agency.
Driver's merit point scheme
One of the most controversial decisions was the introduction of the penalty point or merit point system under which a person's driving license is cancelled or suspended based on the number of points he loses over a period of 12 months because of the traffic offences.
According to the revised Law on Administrative Responsibility and six related laws, which entered into force on January 1, 2020, each motorist is given 9 points at the beginning of a year. If a motorist loses all 9 points within 12 months, he/she will have their driver's license cancelled for 6 months.
However, they can restore the license in a 3 month-period, but will have to pass an exam. In case of repeated lost of all 9 pints, the motorist will be deprived of his license for a period of 12 months. To restore the license he/she will have again to pass an exam. A motorist will lose from 3 to 4 points for speeding and drunk driving, 3 points for unauthorized transfer of license plates, driving against traffic on a one-way street.
The motorist will lose 2 points if at least one license plate digit is covered or poorly visible, for incorrect crossing of the dividing strips, exceeding the permissible speed by 11-30 km / h, creating an emergency situation. They will lose 1 point in case of violations of the dividing lines, incorrect turns, and violations of the rules of travel at the intersection, pedestrian crossings, smoking during driving, unfastened seat belts, and speaking on phone. Also, 0.5 points will be deducted for the use of non-standard or worn license plates, violation of the rules of stopping and parking.
Payroll tax
A new Tax Code, said to have been designed to help boost economic growth, improve the environment for micro and small businesses and solve some pressing problems, has entered into force on January 1, 2020. Parts of the law are about ordinary citizens' payroll taxes. Earlier, the size of payroll tax depended on the amount of the salary. The higher the salary, the higher payroll tax was. Starting January, 2020 the flat 23% payroll tax rate is applied to all salaries, regardless of their size. Within the next three years it will drop to 20%, one percent every year. Earlier, if a person's salary was up to 150 thousand drams, he paid 23% payroll tax, if the salary was from 150 thousand drams to 2 million drams, the tax was 28%, and if the salary was over 2 million drams, the tax was 36%.
Other changes include an increase in the excise tax, which will be increasing annually by 3%, instead of the previously proposed 4%. Micro enterprises, self-employed persons, family enterprises with a turnover of up to 24 million drams will be exempted from taxes. The tax for companies, providing gambling services, will increase by 20%. In 2020 or 2021, depending on the results, these companies may be required to start paying profit tax. Also, pawnshops will pay state duties, while private taxi drivers will be exempted from it.
For public catering companies, the sale tax is reduced to 6% of the turnover minus 3% of expenses, but not less than 4% of the turnover. According to the changes, the tax on the purchase and sale of a car will be 1% of the price, but this cannot be lower than 150 drams for each horsepower. This tax liability arises if the sale is effected earlier than 365 days after the purchase. Real estate transactions made by individuals will be exempt from taxes too.
Expensive cars
One of the customs privileges enjoyed by Armenian citizens ceased to be effective on January 1, 2020. Unlike other members of the Eurasian Economic Union (EEU), Armenia enjoyed a preferential regime until December 31, 2019 due to which the customs rates for car imports were significantly lower than those in the Eurasian Economic Union. As of September 1, 2019, the customs rate for vehicles imported from third countries to Armenia was 10 euros per 1 cubic cm of engine capacity, while in Russia and other EEU countries it was 22 euros. In fact, from January 1, a similar rate applies to Armenia as well. Now and after 2020, the owners of vehicles will pay environmental tax
End to preferential imports
Since January 1, 2020, customs duties have increased on 900 items of goods imported to Armenia from third countries as part of the transitional arrangements that were reached after the country joined the EEU. According to the Ministry of Economy, the list includes 293 names of vehicles, as well as a number of essentials. According to the ministry, the impact of changes in customs rates on inflation will be 0.5 percentage points. The list of goods, on which the duty has changed include poultry meat (from 22% to 25%), frozen cattle meat (from 12.5% up to 15%), rice (from 3% to 6%), sunflower and butter (from 13% to 15%), dairy products (- from 13% to 15%).
Pensions, salaries and benefits will increase
The good news is the rise in pensions, benefits and public salaries, although the rise is less than anticipated by the population. Pensions will increase by 10%. The basic pension is 18 thousand drams up from the previous 16 thousand drams. For the first 10 years of service, the bonus for each year is 950 drams, up from the previous 800 drams, and for the military - 1600 drams instead of the 1500 drams.
Also, disability pensions and the allowance for the loss of a breadwinner have been raised, and the minimum pension has been increased to 27 thousand drams from the previous 25.5 thousand drams. Also, under the government's decision, the size of a lump-sum allowance given for the birth of the first child, which is 50,000 drams today will be raised sixfold to 300,000 drams and the size of the benefit given for the birth of the second child will be raised from the current 150,000 drams to 300,000 drams.
The decision comes into force on July 1, 2020. For these purposes, the government has earmarked 3.7 billion drams in its 2020 budget. In the case of the birth of twins and triplets, the size of the benefit will be issued in accordance with the number of children. It will not be indexed until other calculation formats are proposed. The second major change refers to the monthly childcare benefit given to mothers until their child is two years of age. This applies only to mothers who are on maternity leave.
The current amount of 18,000 drams per month will be upped to 26,500 drams from July 1, 2020. In order to stimulate child birth rates in rural areas, mothers who do not work will also get the allowance until their children are 2 years old. If mothers of children under two years of age work, the amount of the allowance will double. In total, about 4.8 billion drams are earmarked for this purpose by the 2020 budget.
What we should not be afraid of
Last year the government raised the size of payment it makes to the employee's funded pension account to 7.5%, the rest, in the amount of 2.5% of a worker's salary, who is born after 1974 is paid by the worker. However, according to the law, this ratio should be reduced. Fortunately, this will not happen in 2020, as many had expected.
In 2021, employee's share will grow to 3.5%, in 2022 the rate will rise to 4.5%, and from January 2023 it will reach 5%. Also, new restrictions on smoking in public places will be introduced starting May, 2020. A relevant bill has so far been adopted only in the first reading and if the process of its final approval is delayed, the deadlines for introducing restrictions may slightly move to later dates. The new legislation is expected to enter into force fully before January 1, 2024. The legislative package provides for a ban on tobacco use in enclosed spaces, public transport, hospitals, clinics and medical centers, in educational and cultural institutions, in playgrounds.
The fine for smoking motorists has been raised to 10 minimum wages. In addition, there are certain rules for the sale of tobacco, as well as restrictions on the advertising of tobacco products. Violation of the ban on the use or restriction of the use of tobacco products or their substitutes by officials will entail a fine of 100 to 200 minimum wages, and for an individual - 50 wages. Moreover, the same violation committed by an official within three months after the first violation entails a double fine. Top of the Document
Armenia's public administration system is not efficient, political analyst says
January 10, ARKA
Armenia's public administration system is not efficient, political analyst Vigen Hakobyan said at a press conference on Friday.
On December 12, Armenian Prime Minister Nikol Pashinyan accused the government and law-enforcement agencies of sabotaging the fight against corruption, economic policies and reforms initiated by him. He also said that all economic successes were achieved… in spite of the state governance system.
According to Hakobyan, one thing is clear- if one or another government agency is ineffective, the first thing to be done is to change ministers, their deputies and so on.
Hakobyan said there are doubts that some senior government officials intentionally do things that damage the image of Pashinyan's administration, but he refused to name them. Hakobyan stressed also that during the "post-revolutionary" period only one minister was replaced - justice minister Artak Zeynalyan, who was not from Pashinyan's political team.
"If he (Pashinyan) is unhappy about his ministers, why doesn't he replace them?" Hakobyan wondered. "If the whole system sabotages the fight against corruption, economic policies and reforms, then who secures those economic growth indicators, which the prime minister presents as unprecedented? There is a lot of contradicting statements," said Hakobyan.
In this context, he recalled the resignation of Pashinyan's press secretary Vladimir Karapetyan, saying this may be a sign that some changes are beginning. Top of the Document
SRC informs about changes for business entities in field of public catering
January 10, Arminfo
In 2020, business entities operating in the field of public catering expect important changes. This was reported by the press service of the State Revenue Committee (SRC).
According to the source, resident commercial organizations and individual entrepreneurs, if they satisfy all the conditions established by the RA Tax Code for recognition by VAT payers, in order to act in this system, they must submit a statement on recognition of VAT by the payer in accordance with the format approved by the order of the chairman of SRC N191-Ќ dated June 27, 2017.
Turnover tax in the field of public catering will be calculated at a rate of 6%, with the use of the corresponding deductions provided for by law. In relation to income received from other types of activities, value added tax will be calculated in accordance with the type of income in accordance with the procedure established by Article 258 I of the Tax Code of the Republic of Armenia.
If organizations and individual entrepreneurs do not satisfy the conditions established by the RA Tax Code in order to be considered payers of value-added tax, but prefer to operate in the value-added tax system, then they must submit to the tax authority a statement of recognition of it as value-added taxpayer to carry out activities in the field of public catering in the form approved by order of the chairman of the SRC N626-N of September 30, 2019. In the application, it is necessary to indicate which particular condition / conditions they do not correspond to in order to transfer to the number of VAT payers.
In the case of this group of taxpayers, value-added tax will also be calculated at a rate of 6% (using appropriate deductions in accordance with the law). And the sales tax in case of other activities or the disposal of other assets will be calculated at a rate of 20%. Top of the Document
World Bank Expects Continued Robust Growth In Armenia
January 10, Radio Free Europe/Radio Liberty
Economic growth in Armenia will remain faster than in neighboring Georgia and Azerbaijan in the coming years, according to the World Bank.
In its latest Global Economic Prospects report released on Thursday, the bank revised upwards its economic growth forecasts for Armenia. By contrast, it expects even slower growth in Georgia and Azerbaijan than was forecast in its previous report released in June.
The Armenian economy has expanded robustly since 2017 after years of sluggish growth that followed the 2008-2009 global financial crisis. According to government data, economic growth reached 7.5 percent in 2017 but slowed to 5.2 percent in 2018, which saw a dramatic regime change in the country. Government officials say it accelerated to more than 7 percent last year.
The World Bank estimated Armenia's 2019 growth at 6.9 percent, sharply up from 4.2 percent projected by its June report.It said the Armenian economy will grow by 5.1 percent this year and slightly faster in 2021 and 2022. The bank predicted lower growth rates in June.
According to its latest report, the Georgian economy grew by 5.2 percent in 2019 and should expand by 4.3 percent this year and slightly faster in 2021 and 2022. The bank sees much slower growth in hydrocarbon-rich Azerbaijan: 2.5 percent in 2019, 2.3 percent in 2020 and 2.1 percent in the following years. These figures represent downward revisions of the bank's previous GDP projections for the two South Caucasus states.
Two years ago the World Bank upgraded Armenia's status from a "lower middle income" to an "upper middle income" nation. The official poverty rate in the country fell from 29.4 percent in 2016 to 23.5 percent in 2018.
The robust growth allowed Armenia to surpass Georgia and nearly match Azerbaijan in terms of GDP per capita last year. The International Monetary Fund forecast recently that Armenia's GDP per capita, worth an estimated $4,530 in 2019, will also exceed Azerbaijan's by the end of 2020.
Economist say the Armenian dram's relatively stable exchange rate is another reason for this trend. Unlike the national currencies of Azerbaijan and Georgia, the dram has avoided a major devaluation since the collapse of international oil prices which began in late 2014. Top of the Document
The Economic Significance of the Minimum Monthly Wage
December 17, https://www.evnreport.com/economy/the-economic-significance-of-the-minimum-monthly-wage
Changes to the Law on the Minimum Monthly Wage were accepted by a unanimous 104-0 vote in Parliament on November 19. Starting January 1, 2020, the minimum monthly wage in Armenia will be set at 68,000 AMD, a 23.6% increase from the current 55,000 AMD, which has been in place since 2015. What role does the minimum wage play in the economy and what do changes in the minimum wage result in?
The first country to enact a mandatory minimum wage was New Zealand in 1894. However, the theory behind the policy had already started developing much earlier in the works of several economists. In the 18th century, Adam Smith had stated that a wage should not only be enough for the survival of one individual, but for keeping and maintaining a whole family. This thought was further developed by David Ricardo, who proposed the natural price of labor which he associated with costs of everyday expenses for the amount of food and life essentials necessary for a working individual. According to Ricardo, the market price for labor derives from the interaction between supply and demand. Only in exceptional cases can the market price be lower than the natural price which, in turn, leads to a rise in poverty.
Today's principles for minimum wage are set out in the International Labor Organization's (ILO) Minimum Wage Fixing Machinery Convention, passed in 1970. Article 2 of the Convention states "Minimum wages shall have the force of law." Article 3 establishes the principles and factors that determine the level of the minimum wage. Minimum wages have to take into consideration the needs of workers and their families, taking into account the general level of wages in the country, the cost of living, social security benefits and other factors. Several principles for establishing a minimum wage can be identified by summarizing the results of major research:
An increase to the minimum wage has to match labor productivity and price growth rates;
A minimum wage can be used as a tool for regulating labor remuneration in different economic spheres;
The minimum wage has to grow in tandem with the average wage within an economy.
Changes to the minimum wage can have an immediate effect on income polarization, poverty, prices and employment. Factors that can greatly affect the results of a minimum wage increase include competition levels in the labor market, the proportion of the workforce receiving the minimum wage, the elasticity of labor demand, etc.
Unemployment and Inflation
A minimum wage increase can have two negative results: unemployment and inflation. When the cost of the labor force increases, employers are faced with a dilemma: decrease the number of workers or transfer the cost burden to the consumer by raising product prices. However, in open economies, in a globalized world, opportunities to raise prices are limited. A price increase in the products from one country may simply lead consumers to switch to foreign competitors that are not subject to the same cost pressures, resulting in layoffs. In the case of market monopolies with a lack of substitute goods, inflation prevails. Both inflation and unemployment reduce the population's general standard of living, which can lead to more poverty. Hence, increasing the minimum wage requires a systemic approach in order to avoid negative consequences.
What is the optimal amount for a minimum wage? By its very nature, the minimum wage has to be enough to ensure the minimum standards of living for one adult and those financially dependent on them. However, this logic only works in developed countries. It's quite the opposite in developing countries (including the post-Soviet sphere). Moreover, in several developed countries, the minimum wage is, on average, double the minimum consumer basket. Specifically in European countries, the minimum wage is equal to 40-45 percent of the median wage or even more, or 40 percent of the average monthly salary in the country. In some European countries the level of minimum wage is at least 1.5 times more than the subsistence minimum (e.g. the Slovak Republic, the Czech Republic, Estonia, etc.) According to the European Social Charter (7th Edition) "wages must guarantee a decent standard of living to all workers. The net minimum wage must amount to at least 60% of the net national average wage"
From January-September, 2019, the average gross monthly wage in Armenia was 178,633 AMD (or 115,5 AMD net average monthly wage). If the government wants to adopt EU norms, the minimum wage should amount to 60 percent of the net average monthly wage, or 69,300 AMD. However, the minimum wage, based on its economic and social structure, has to be at least 1.5 times more than the country's minimum threshold of living standards. Moreover, it has to be periodically revised based on the increase in consumer basket prices.
In Table 1 below, it is evident that the minimum wage in Armenia is not adequate to meet the minimum consumer basket.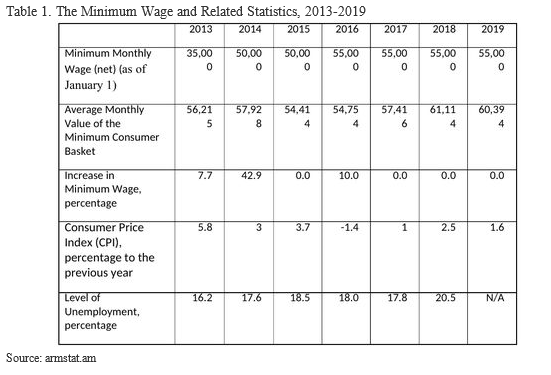 Based on the bill approved by the Armenian Parliament, starting from January 2020, the minimum monthly wage will be set at a net value of 68,000 AMD, which is about 60 percent of the net average monthly wage set for 2019. On the one hand, this corresponds to the European norm. On the other hand, it contradicts another principle: it is almost equal to the amount of the minimum monthly consumer basket. This means that a working individual can ensure only his or her own minimum standard of living. Let's observe a household of three as an example. Two of its members are working individuals receiving the minimum wage and one is a dependent minor. Hence, we can calculate that the income per household member is 45,333 AMD. For the adults to ensure the minimum consumer basket for their child, the minimum wage has to be at least 1.5 times the consumer basket. This means, as of September 2019, the minimum wage should have been 90,591 AMD.
Empirical research has shown that increasing the minimum wage does not significantly affect levels of unemployment, except in cases where growth rates have been especially high. This is based on research done for developed and developing countries, such as the United States, United Kingdom, Brazil, Chile, China, Indonesia, India, Mexico, Russia, Turkey, etc. When the minimum wage increased rapidly, it mainly led to a decrease in formal employment and an increase in informal employment. Several studies done in Europe have also shown that this has led to inflation, a revision of production costs by companies by cutting certain expenses, and an increase in productivity.
The best example of avoiding an increase in unemployment as a result of an increase in minimum wage is Indonesia, where companies and trade unions worked together to maintain jobs. Increases in minimum wage have also had positive results in Latin America. As a tool for regulating post-crisis processes, it has led to an increase in demand and investment. European countries have had a more complex approach to this issue. When raising the minimum wage, they also simultaneously provided subsidies to producers in order to mitigate negative consequences. In general, social dialogue has also shown to prove fruitful in avoiding negative consequences. Top of the Document
Authorities Complete Corruption Probe Of Serzh Sarkisian
January 10, Radio Free Europe/Radio Liberty
An Armenian law-enforcement agency has concluded a criminal investigation into former President Serzh Sarkisian, insisting that it had enough evidence to bring corruption charges strongly denied by him.
The Special Investigative Service (SIS) indicted Sarkisian a month ago. It said that he "organized the embezzlement by a group of officials" of 489 million drams (just over $1 million) in government funds allocated in 2013 for the provision of subsidized diesel fuel to farmers.
The SIS claimed that Sarkisian interfered in a government tender for the fuel supplier to ensure that it is won by a company belonging to his longtime friend, rather than another fuel importer that offered a lower price. The ex-president rejected the accusation as politically motivated.
The SIS announced on Friday that it has completed the investigation and sent the high-profile case to prosecutors for formal approval. Such an endorsement would pave the way for Sarkisian's trial on embezzlement charges carrying between five and eight years in prison.
Sarkisian's lawyer, Amram Makinian, said he has already familiarized himself with materials of the case.
"The accusations are baseless, fabricated and aimed at subjecting Mr. Sarkisian to political persecution," he told RFE/RL's Armenian service. "The case lacks relevant and credible evidence that can prove his alleged deeds."
Makinian said the case is based on false incriminating testimony given by a single individual. He did not deny that that person is former Agriculture Minister Sergo Karapetian.
Karapetian and Sarkisian were reportedly brought face to face and interrogated by SIS investigators later in December. The former minister has still not made any public statements on the case.
Echoing statements by the former ruling Republican Party of Armenia (HHK) still headed by Sarkisian, Makinian claimed that his client was prosecuted in retaliation for his public criticism of Prime Minister Nikol Pashinian.
The 65-year-old ex-president, who ruled Armenia from 2008-2018, accused Pashinian's government of jeopardizing democracy and stifling dissent in a November 20 speech at a congress of the European People's Party held in Croatia. He had kept a low profile since resigning in April 2018 amid mass protests against his continued rule led by Pashinian.
Pashinian has repeatedly implicated Sarkisian, his family and political entourage in corruption both before and after coming to power in the "Velvet Revolution."
Some of Sarkisian's relatives, cronies and political allies have also been prosecuted on corruption charges. One of his two brothers fled Armenia shortly before being indicted in June 2018. Top of the Document
Analyst: opposition in Armenia will have to go through transformation to compete for next elections
January 10, ARKA
Armenian political analyst Vigen Hakobyan said today that regardless of whether some opposition forces would succeed in pressing for snap parliamentary elections, the next regular elections are scheduled to take place in 2023, and the opposition will have to go through a transformation process in order to be able to compete for seats in the National Assembly.
Speaking at a news conference Hakobyan said one segment of the opposition is represented by the former ruling Republican Party of Armenia (HHK), which was made step down in 2018. According to Hakobyan, HHK should have used the time since then to rethink its strategy and to make a kind of re-branding, which, however, did not happen.
According to Hakobyan, the assessments voiced by senior members of HHK show that they do not understand that their period of governance was ineffective, leading eventually to the velvet revolution. He said the party made no personnel shifts. 'In any case, if a new start is given, the old faces, former political leaders have to leave, at least for a while.
The second segment, according to the political analyst, is composed of new political forces that emerged in 2018-2019, which will try to become more institutionalized, both in terms of structure and in terms of financing and external relations. In his opinion, these forces may rally around the ex-director of the National Security Service Artur Vanetsyan.
"Now, his actions are quite confident, but cautious. Step by step, he is trying to enter the political stage. I do not exclude that Vanetsyan may become the missing link around which that segment of the opposition may consolidate," Hakobyan said.
The next segment of the opposition, according to the expert, will be made of civil society organizations, which consider themselves to be orthodox revolutionaries and which want to protect the revolution not only from counter-revolutionaries, but also from prime minister Nikol Pashinyan's administration.
As for the parliamentary opposition, the Bright Armenia party comes out with radical positions with strong rhetoric. As for the Prosperous Armenia Party, Hakobyan believes that its moves are dictated by some business interests, but nevertheless, it has found its own "opposition topics" to capitalize on. Top of the Document
2019 Ends as Most Peaceful Year in 25 Years of Ceasefire
January 9, Hetq.am
Four Armenian and an estimated nine Azerbaijani servicemen died in hostile fire incidents throughout 2019, making the year the most peaceful since the May 1994 ceasefire.
Most deadly incidents occurred in June, when two Armenian servicemen were killed in sniper attacks in Artsakh, and in October when one Armenian serviceman was killed and two wounded in Tavush. Several escalations were reported at Tavush border throughout the year, after the frontline duty there was taken over by Azerbaijan's Border Guards Directorate, a command separate from the Defense Ministry.
2019 also became the first year in over a decade when there were no conflict-caused civilian deaths. In prior years of ceasefire, mines accounted for most of such casualties, including three Halo Trust deminers in 2018.
The de-escalation continued the trend set in 2017 and 2018, even as no progress was evident in political negotiations on Karabakh.
Below is a chart of confirmed deaths in hostile fire incidents in the last 17 years. Data for between 1994 and 2002 is less precise, but is believed to have exceeded the death toll in 2017-19. Top of the Document
Armenia Airways cancels flight to Tehran, scheduled for January 12
January 12, ARKA
Armenia Airways airline has cancelled the AMW111 / 112 flight to Tehran, scheduled for January 12, saying in a Facebook post the decision was prompted by security reasons.
It said the people who bought tickets for this flight should visit the airline's head office or contact its agents to reschedule their flight to a different date. The airline apologized for the inconvenience saying that the passenger safety is its priority.
Armenia Airways' move comes after Iran on Saturday admitted its military accidentally shot down a Ukrainian airliner near Tehran airport. The plane, a Boeing 737 operated by Ukrainian International Airlines, went down on the outskirts of Tehran during take-off on Wednesday morning. All 176 on board were killed. The plane was flying to the Ukrainian capital of Kiev.
Last Wednesday, the Civil Aviation Committee of Armenia said it would not ban flights in the airspace of Iraq, Iran, the Persian and Oman gulfs because of the heightened tension in the Middle East region. Armenia Airways launched the Yerevan-Tehran-Yerevan flights in the summer of 2019. From June 24, they became daily. Top of the Document
Bereaved Mothers Demand Arrest Of Adoption Scam Suspects
January 10, Radio Free Europe/Radio Liberty
A group of women who had lost their newborn babies in disputed circumstances rallied outside Armenia's Office of Prosecutor-General on Friday to demand the arrest of five individuals accused of illegally organizing adoptions of Armenian children by foreigners.
The bereaved mothers were told by doctors years or even months ago that they gave birth to stillborn babies.
They say that they were never shown the bodies of the newborns and believe the latter were born alive and sold to foreign adoptive parents. They point to the findings of a criminal investigation launched by Armenia's National Security Service (NSS) and resulting arrests made by another law-enforcement body in December.
The arrested persons included the head of Armenia's largest maternity hospital, Razmik Abrahamian, his deputy Arshak Jerjerian and the director of a Yerevan-based state orphanage, Liana Karapetian. They were charged with having forced over a dozen pregnant women to abandon their babies subsequently adopted by foreign nationals in 2016-2018 in return for bribes.
Despite the grave accusations, district courts in Yerevan ordered these and the two other suspects released from custody a few days later. Abrahamian was freed unconditionally while the others were granted bail.
The Office of the Prosecutor-General announced on Thursday that it has appealed against the release of Abrahamian, Karapetian and another suspect and may also ask the Court of Appeals to overturn the two other lower court decisions as well.
Prosecutor-General Artur Davtian met with the protesting mothers and assured them that law-enforcement authorities are serious about sending the accused individuals back to prison.
According to one of the women, Haykuhi Khachatrian, Davtian also denied reports that he has repeatedly met with Abrahamian at a Yerevan restaurant and may help the veteran doctor avoid punishment.
Most of the women who protested outside the prosecutors' headquarters in the Armenian capital had given birth at the Republican Hospital run by Abrahamian.
One of them, Naira Ayvazian, went into labor there three years ago. "My child did not die," she said, accusing hospital officials of lying to her for the sake of their "business."
Another woman, Anna Petrosian, gave birth to purportedly stillborn twin boys in 1999. She said that she never saw their bodies. "Since then I have been too stressed to become a mother," Petrosian told journalists.
Khachatrian, who lost her child in similar circumstances last year, claimed that she and the other mothers did not speak up until now because they were "scared of the former authorities." She said they were buoyed by the NSS investigation and are now ready to testify as witnesses in the high-profile case that has shocked many in Armenia. Top of the Document
Press Review
January 10, Radio Free Europe/Radio Liberty
Lragir.am claims that Azerbaijan's Nakhichevan exclave is "at the center of Iran's interests" not least because of Turkish military presence there. The publication critical of Russia says that Nakhichevan's current status was defined by a Russian-Turkish treaty signed in 1921. It says that that the Armenian victory in the 1991-1994 war for Nagorno-Karabakh ran counter to the spirit and strategic aim of that treaty.
"Zhamanak" reports and comments on the Armenian government's decision to sharply raise bonus payments made to parents having their first or second child. "There is no doubt that it made an absolutely welcome decision which can prove essential for changing the demographic situation in Armenia," writes the paper. "However, the base levels are so low that repatriation must be the prime target in the drive to change the demographic situation. Things in Armenia must be good for everyone except criminal elements, carriers of the criminal culture and, of course, lazy persons and parasites."
"Haykakan Zhamanak" wonders what most ordinary Armenians will do if they see thieves stealing cash from a pensioner or a schoolchild in broad daylight. "They will certainly step in and not allow that," writes the pro-government paper. But echoing statements by Prime Minister Nikol Pashinian, it says many people do not care when they are not issued with cash receipts in shops or restaurants. It deplores a popular perception that reporting such instances of tax evasion is not an honorable thing to do. "There is such a belief because this criminal subculture was for decades propagated in our country," it says. "And it was propagated with the help of the [former] authorities because they shared in those sums stolen from the state. Now we have a situation where the government stance on the issue has changed radically but the pace of change in the public consciousness is not satisfactory." Top of the Document