Le 27 septembre 2022 s'est tenu à l'India Habitat Centre de New Delhi un séminaire franco-indien sur la ville durable, organisé par l'Ambassade de France en Inde (Service Economique Régional de New Delhi), en coopération avec le ministère indien du logement et de la ville (Ministry of Housing and Urban Affairs). Cet événement a été organisé avec le soutien d'Expertise France et du Ministère de la Transition Ecologique et de la Cohésion des Territoires.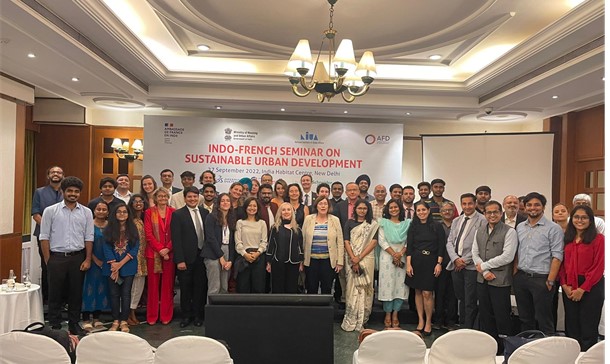 L'Ambassadeur de France en Inde Emmanuel Lenain a ouvert l'événement avec le Secretary indien Manoj Joshi et le coordinateur Medef de la task-force Ville durable Gérard Wolf. La séquence inaugurale a rappelé les enjeux liés à la croissance urbaine indienne record et l'expertise française, publique et privée, mobilisable pour y répondre.
Avec plus de 150 participants présents, cette journée d'échanges a permis aux experts français et indiens de partager leurs bonnes pratiques et de mettre en lumière des projets innovants autour de quatre thèmes : le cycle de l'eau dans la ville, la gestion des déchets et l'économie circulaire, les solutions innovantes pour la mobilité, les villes bas-carbones et résilientes.
La session plénière s'est concentrée sur des problématiques transversales liées à la planification urbaine, la gouvernance des villes, la formation et le développement des capacités, leviers indispensables pour une urbanisation durable.
Côté indien, plusieurs officiels de haut niveau du ministère indien du logement et de la ville (MoHUA), de l'institut national des affaires urbaines (NIUA), de collectivités territoriales (Chandigarh, Delhi) et d'exploitants de transport ont participé aux différentes sessions.
L'expertise publique et privée française était largement représentée avec la participation de l'Agence Française du Développement, du Ministère de la Transition Ecologique et de la Cohésion des Territoires, des Ateliers de Cergy, du Cerema, de la Codatu, d'Urbanistes sans frontières, d'Efficacity… De nombreuses entreprises françaises ont pu présenter leurs solutions, parmi lesquelles Dassault Systèmes, Egis, Keolis, Schneider Electric, Suez, Systra, Poma, Veolia. Une délégation d'entreprises du Medef a également fait le déplacement pour cet événement.
La France et l'Inde travaillent conjointement au développement durable des villes depuis plus de dix ans dans le cadre d'un accord de coopération bilatérale signé en 2012 et renouvelé en 2018 à l'occasion de la visite du Président Macron. La France et l'AFD ont ainsi apporté un soutien majeur à l'Inde pour le développement de solutions de mobilité durables, de réseaux d'eau potable et d'assainissement et par le biais d'initiatives novatrices comme le programme CITIIS (City Investments to Innovate Integrate and Sustain) avec le National Institut of Urban Affairs.
Ce séminaire franco-indien sur la ville durable a permis d'ouvrir de nouvelles pistes de coopération, notamment sur la gestion de l'eau dans la ville et les mobilités alternatives, et donner un nouvel élan à la coopération bilatérale.
Pour aller plus loin : les vidéos de l'événement sont disponibles sur Youtube.
Inaugural, Sessions on Water and Waste, Key Note Ateliers de Cergy and Plenary on Governance and Capacity Building On Link 1
Keynote address
Mr. Emmanuel Lenain, His Excellency, Ambassador of France to India
Shri Manoj Joshi, Secretary, Ministry of Housing and Urban Affairs, Govt. of India
Address
Mr. Gérard Wolf, International Coordinator for Sustainable Cities for the Minister of Europe and Foreign Affairs and Taskforce Leader at Medef international.
Session on Water 00:50:30 to 2:50:00
1: Water infrastructure for urban areas- recycling, supply and delivery
Special Speaker: Ms. D Thara, Additional Secretary AMRUT, MoHUA
Moderated by Dr Victor Shinde, Lead Water and Environment, NIUA
Mr. NP Sharma, Chief Engineer Municipal Corporation, Chandigarh
Mr. Nicolas Bockhoff, COO Water Services and O&M, Suez India
Mr. Hervé Lienhardt, Commercial Director, Veolia India
Mr. Arnaud Brunelle, Commercial Director CityTaps (virtual)
2: Resource efficiency – collection and storage, recharging and rejuvenation
Moderated by Ms. Mahreen Matto, Program manager water, NIUA
Mr. Ankit Tulsyan, Sector Portfolio Manager- Water and Sanitation, French Development Agency (AFD)
Mr. S. Vishwanath, Director, Biome Trust (virtual)
Ms. Zofia Mlocek, Design Director, Atelier LD
Mr. Maxime Therrillion, Head of Business Development, Mascara Osomsun (virtual)
Keynote Ateliers de Cergy: Mme Florence Bougnoux 04:10 :15 to 04 :27 :15
Plenary Session : Addressing urban planning, governance and capacity building 04:28:10 to 05:33:30
Moderated by Dr. Marie-Hélène Zérah, Research Director, French National Research Institute for Sustainable Development
Mr. Hitesh Vaidya, Director National Institute of Urban Affairs
Ms. Maggie Cazal, President and Founder, Urbanists without Borders
Prof. V Srinivas Chary, Director, Center for Urban Governance, Environment, Energy and Infrastructure
Ms. Pallavi Deore, YUDAP alumni
Session on Waste 05:53.21 to 07:18:18
Special Speaker: Mr. J B Ravinder, Joint advisor, Central Public Health & Environmental Engineering Organisation (CPHEEO), MoHUA
Moderated by Mr. Ashish Chaturvedi, Head environment, energy and resilience, UNDP
Mr. Udit Patidar, Co-Founder, Bintix, MoHUA AFD Swachhta Startup challenge
Ms. Clara Seligmann, Regulatory Affairs and Partnerships, CITEO (virtual)
Ms. Meeta Narsinghani, Associate Partner, Circulate Capital
Mr. Ujwal Desai, Founder & Managing Director Lucro
Mr. Harshad Barde, CEO, Swachh cooperative Pune
Mr. Niraj Kunkulol, Business Development, Prodeval (virtual)
Vote of thanks 07:49:40 till end
Mr. Naim Keruwala, Program Director CITIIS at National Institute of Urban Affairs
Ms. Marion Velut, Counsellor Sustainable Development, Embassy of France
Special Speaker: Dr. O.P. Aggarwal, CEO, World Resources Institute
Moderated by Mr. Nilesh Rajadhyaksha, Lead Urban Policy and Planning, NIUA
Special Speaker: Mr. Jaideep, Officer on Special Duty (Mobility), MoHUA (virtual)
Moderated by Mr. Samir Sharma, NCRTC Ltd
Mr. Benjamin Fauchier-Delavigne, Head of Sales Asia, Poma
Mr. Hari Kumar Somalraju, Managing Director or Mr. Ankush Malhotra, Head of Planning and Transit Development, Systra India
Mr. N Mohan, Deputy General Manager Head of EVCI, Convergence Energy Services Ltd., under the Indian Ministry of Power
Mr. Shashank Achanthodi, Chief Minister's Urban Leaders Fellow, Govt. of National Capital Territory, Delhi
4. Session on Low Caron and Resilient Cities on Link 4
Moderated by Dr. Umamaheshwaran Rajasekar, Head, Climate Center for Cities, NIUA
Ms. Neelima Soni, Director Landscape & Environmental Planning Department, Delhi Development Authority
Dr. Sascha Ruja and Ms. Vasudha Sharma, Egis India
Mr. Venkat Garimella, VP Strategy and Sustainability, Schneider Electric India
Ms. Djamila Ioualalen-Colleu, Project manager for smart and sustainable cities, Ministry of ecological transition and cohesion of the territories, Govt. of France (virtual)
Ms. Isabelle Dennieau, Development and Partnerships Director, Efficacity